VNTranslator - Visual Novel Translator
A downloadable tool for Windows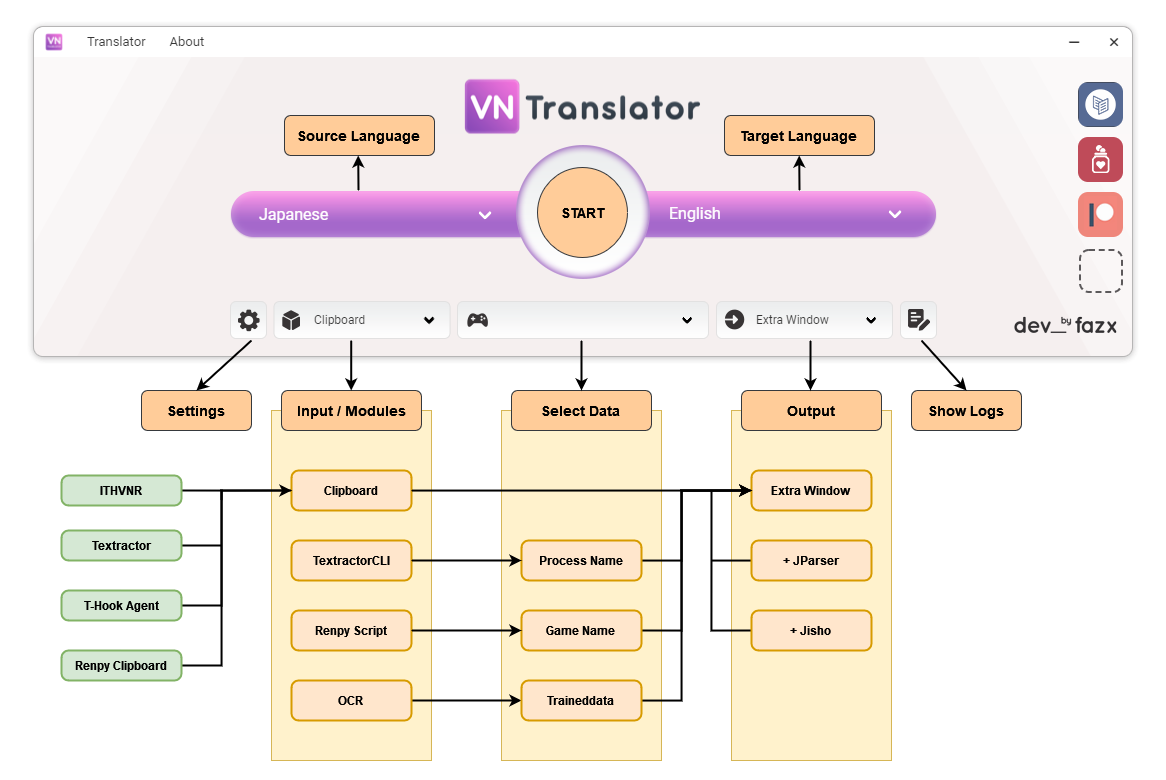 #VNTranslator
A tool for translating visual novels. User friendly and easy to use.
Clipboard
Read clipboard text automatically
TextractorCLI
Extract text from visual novels
RenPy Script
Auto translation for renpy games
OCR
Text Recognition for video games
#Features
Translation Tools Including
Google Translate, DeepL, Bing and Papago
Export and Import Translated Text
You can create and edit text translations
Pre-processing
Apply filters before sending a text to translator
Dialogue Window
show a list of translation
Extra Window
Layout, Background, Text Color, Text Speed, Etc..
Smart Filtering for TextractorCLI
Delay & Join Sentences, RegExp, Lang Detection, Etc...
OCR + Image Processing
Visual Novel OCR & Text Recognition for Video Games

Smart Filtering for TextractorCLI
Extract text from visual novels & video games

#Extensions
JParser
Converting Japanese sentence to Hiragana, Katakana or Romaji
Jisho
Japanese-English online dictionary

---

System Requirements
Operating System : Windows 10/11
CPU : Not specified
RAM : Minimum 4GB | Recommended 8GB or higher
Storage : Not specified

Download
Click download now to get access to the following files:
VNTranslator v0.7.0 (Windows 64-bit Installer)
155 MB
VNTranslator v0.6.1 (Windows 64-bit Installer)
142 MB
__VNTranslator-script.rpyc
2 kB
__VNTranslator-clipboard.rpyc
4 kB